Spezifikationen
Engine & chassis
The advanced engineering and skilled craftmanship behind the Cadillac motor car has been unique in the industry for more than sixty years. Many important mechanical features that have distingushed Cadillac for years are still to find their way into other cars. The great new Cadillac engine for 1964 – the most powerful in its history – is an outstanding example. So, too, are Hydra-Matic and the new Turbo Hydra-Matic automatic transmission. Another Cadillac's exclusive True Center Drive Line which isolates and cancels normal driving sound and vibration and produces a smooth and quiet flow of power Triple Braking System, wich seperate front and rear brake systems, plus a true auxilary parking-emergency brake. In addition, all four drums are finned for better cooling, smoother stops and longer brake life, and are self-adjusting. These unique features, and many more which your dealer will demonstrate, are your assurance that when you drive a Cadillac you are driving the Standard of the World.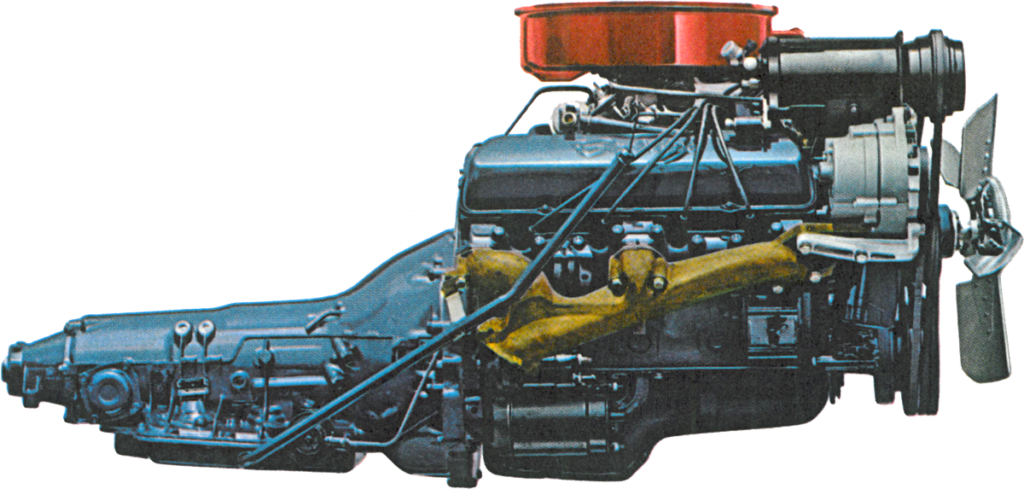 Standard power equipment on all models

CADILLAC POWER STEERING . . . affords almost effortless parking, cornering and highway travel and retains a reassuring "feel of the road."
CADILLAC HYDRA-MATIC DRIVE and TURBO HYDRA-MATIC automatic transmission . . . provide instant, smooth response and proven dependability.
CADILLAC POWER BRAKES . . . for smooth, straight-line stops with almost no effort. (See details above and right.)
CADILLAC HEATER AND DEFROSTER . . . directs an even flow of thermostatically controlled warm air to both front and rear passengers, helps keep windshield free of fog and ice.∗
∗ All models may be ordered without heater-defroster, as an option at reduced cost.
Other standard equipment
YOUR CADILLAC PROVIDES, AS STANDARD EQUIPMENT, POPULAR ACCESSORIES OFFERED AS EXTRA-COST ITEMS ON MOST OTHER CARS. AMONG THEM ARE:
Air Cleaner, dry pack
Armrests, center front and rear on de Ville, Sixty Special and Fleetwood Seventy-Five sedan; front only on convertible models; rear only, Sixty-Two models and limousine
Cigarette Lighters, front (two)
Cigarette Lighters, rear (two) except Sixty-Two coupe
Clock, electric
Front Seat Adjustment, power operated (exept Sixty-Two coupe and sedans)
Lights, front ash receivers
Lights, back-up (dual)
Lights, cornering
Lights, rear compartment corner, Series Sixty-Two, Sixty Special and Seventy-Five models
Lights, courtesy (automatic) and map (75 only)
Light, glove box (automatic)
Light, luggage compartment (automatic)
Mirror, glare-proof, rear-view, flip-type; 3-way, Soft-Ray in Eldorado and Fleetwood Sixty Special sedan
Oil Filter, full-flow
Outside Mirror, left side, remote control
Paint, two-tone
Reflectors, door panels, safety warning (illuminated in Eldorado, Fleetwood Sixty Special sedan and de Ville models)
Visor Vanity Mirror
Visors, dial sun
Wheel Discs
Windshield Washer and Coordinator
Window Regulators, power operated (except Sixty-Two coupe and sedans; front Vent Windows power operated on Eldorado; front and rear on Sixty Special)
Whitewall Tires, 8.20 x 15 (set of five) on Eldorado
Specifications
ENGINE: Eight-cylinder, 340 H.P., overhead, 90° V-type; bore 4.13″; stroke 4.0″; displacement 429 cu. in. Max. torque 480 ft.-lbs. Engine mounted in rubber at three points. Compression ratio 10.5 to 1.
PISTONS: Aluminum alloy, slipper type to reduce friction surface and permit nesting between crankshaft counterweights. Two compression rings, one oil ring with expander; top compression ring chrome-plated to minimize wear on cylinder walls. Recessed contour in piston head increases turbulence for fast, complete burning of fuel-air mixture.
CARBURETOR: Four-barrel downdraft with equalized manifolding; mechanical fuel pump; dry type air filter; automatic choke.
LUBRICATION: Full pressure. Full-flow oil filter standard.
ELECTRICAL SYSTEM: 12-volt, 13-plate battery. High capacity 42 Amp. generator (now 55 Amp. on air cond. cars and Seventy-Five Series).
Gasoline Tank Capacity: 26 gallons.
HYDRA-MATIC DRIVE: Fully automtic, step-gear type. Controlled fluid coupling on forward gear set for smoother shifts. Provides two Drive Ranges, Low Range and Reverse.
TURBO HYDRA-MATIC: Fully automatic, torque converter type. Converter multiples engine torque for increased driving thrust at rear wheels during acceleration in any gear (low, intermediate or high)
REAR AXLE: Hypoid. Differential housing offset to provide straight-line drive. Ratio is 2.94 with an optional 3.21 axle available. The 3.21 axle is provides on air-conditioned models. On Series Seventy-Five models, ratio is 3.36 with 3.77 optional. The controlled differential, optional at extra cost, directs power to rar wheel having better traction.
FRONT SUSPENSION: Four-link drive. Rear springs are helical-coil type. Rubber bushings for quieter, softer ride.
BRAKES: Cadillac Power Brakes with self-adjusting shoes; finned front and rear drums. Split hydraulic master cylinder provides independent piston and fluid reservoir for front and rear brakes, assuring one set working in the event of failure of either set. Effective brake lining area, 221.8 sq. in., 233.72 sq. in. on Series Seventy-Five models.
PARKING BRAKE: Serves as true auxiliary brake since it will not lock in position with engine running and car in gear.
STEERING: Cadillac Power Steering standard equipment. Overall steering ratio of 18.2 to 1 and 38½° turning angle for fast response and short turning diameter.
FRAME: Cadillac tubular-center X frame provides exceptional torsional rigidity; permits a low front floor contributing to comfortable seat height and head room.
TIRES: Low-pressure, 4-ply, tubeless. Size-8.00 x 15 (Series Seventy-Five; 6-ply, size 8.20 x15). White sidewall tires∗, size 8.20 x 15, optinal at extra cost.
CORNERING LIGHTS (Standard Equipment): On the side of front fenders, to rear of parking lights, activated by directional signal switch when headlamp switch is on. Projects a powerful beam of light, perpendicular to the side of the car, thus illuminating roadside and road signs for extra safety in turning corners at night.
TREAD: Front and rear, 61″
WHEELBASE: 129.5″ (Series Seventy-Five, 149.75″).
OVERALL LENGTH: 223.5″ (Series Seventy-Five, 243.8″).
∗ Standard on Eldorado
CADILLAC MOTOR CAR DIVISION GENERAL MOTORS CORPORATION
Cadillac Motor Car Division of General Motors Corporation reserves the right to male changes at any time, without and also to discontinue models.
LITHO IN U.S.A.